COBRA linear stepping motors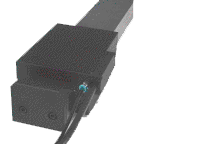 The linear stepper motor from ACP&D Limited represents a major advance in robotics. Gone are the requirements for linear or roller bearings, belts and lead screws for this linear stepping motor is actually built into a carriage which 'floats' on a bed of air.

The carriage contains both the magnets and the coil windings of the stepping motor and the beam (or stator as we call it) is just a length of steel or stainless steel with a series of grooves cut into it's surface. A tough polymer resin is used to fill the groves so that the stator is perfectly smooth. A pneumatic connection to the carriage operating at 3 to 5 bar ensures that the carriage 'floats' as it moves along the stator.
| | | |
| --- | --- | --- |
| | The linear stepping motor provides the user high dynamics (up to 3m/s) coupled with smooth movement due to micro-stepping. It is able to move large loads up to 1,600N with high accuracy (±0.05mm) and repeatability. As there are no belts or lead screws there is only the friction of the cables and the inertia of the carriage to overcome. There are presently ten different sizes of linear stepping motor available starting with the type: 301 (20N load) up to the type: 1802 (1,600N load). The steel or stainless steel stator can be supplied in various sizes up to 6,500mm with the type: 1802. Dependant upon the length of stator supplied it is possible to have more than one carriage on the same stator. In this case the carriages can either be driven together as if they were physically connected to each other or be driven independently. For more information please telephone us on +44(0)161 343 1884 or e-mail us at sales@acpd.co.uk | |
Click here to see the COBRA linear motor sizes available